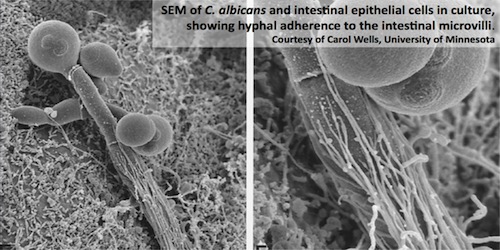 About CGD
This is the home of the Candida Genome Database, a resource for genomic sequence data and gene and protein information for Candida albicans and related species. CGD is based on the Saccharomyces Genome Database and is funded by the National Institute of Dental & Craniofacial Research at the US National Institutes of Health.
Upcoming Meetings & Courses
Gordon Research Conference, Immunology of Fungal Infections, Basic Mechanisms and Translational Implications
Hotel Galvez, Galveston, Texas, USA
January 18-23, 2015; Registration Deadline: December 21, 2014


28th Fungal Genetics Conference
Asilomar Conference Grounds, Pacific Grove, CA, USA
March 17-22, 2015; Registration Deadline: December 10, 2014


27th International Conference on Yeast Genetics and Molecular Biology
Levico Terme, Trento, Italy
September 7-12, 2015


New and Noteworthy
---
---
Assembly 22 of the C. albicans genome sequence
We are pleased to announce that Assembly 22 of the C. albicans SC5314 genome sequence has now become available at CGD, fully integrated into the CGD environment. Assembly 22 (A22) is described in Muzzey D., et al. (2013) Assembly of a phased, diploid Candida albicans genome facilitates allele-specific measurements and provides a simple model for repeat and indel structure. Genome Biol. 2013 Sep 11;14(9):R97.

Taking advantage of next-generation sequencing and achieving nearly 700-fold coverage, this phased, diploid assembly permits more sensitive, allele-specific analysis of the genome structure and funcion. A22 supersedes the previous Assembly 21 as the default genome sequence for C. albicans SC5314. All the previous assemblies remain available at CGD's download pages. (Posted June 27, 2014)
---
CGD Curation News
---
Introducing GeneXplorer for CGD
We have implemented GeneXplorer, a web tool for browsing and analysis of expression datasets and, so far, we have added microarray datasets from over 30 publications already archived at CGD. Each of those publication is linked via an icon to a GeneXplorer-generated web page that shows a colorimetric image of the clustered expression profiles. These images are zoomable and clickable (click on any profile to see the expression patterns of the most similarly or dissimilarly expressed genes). The publications are also linked (via ) to a downloadable data file in the pcl format. We are focusing our efforts on the microarray datasets and more publications are added to GeneXplorer every week. (Posted March 11, 2014)
---
CGD Grant Renewal and Survey
Our renewal of CGD's R01 grant was unsuccessful, so we are currently working on a resubmission, which is due at the NIH on March 5th. In order to convincingly demonstrate the importance of CGD to the community, we ask that our users provide us with letters of support to accompany the application - please highlight how you use CGD, and how its discontinued availability would impact your research. We also ask you to take a few minutes and fill out a survey that will help us to identify specific needs of the community and highlight the role of CGD as a community resource. Please, follow the link here. We will greatly appreciate if you can email letters of support and complete the survey by February 15. Strong, unequivocal support is essential for continuing existence of CGD. (Posted January 22, 2014)
---
Peptide Atlas Links
The Protein Information tab for each Candida albicans gene now links to experimental mass spectrometry data at the Peptide Atlas web site. For example, the TUP1 Protein tab at CGD now features a section called "Experimental Observations" that links to the TUP1 Peptide Atlas Page, which shows the sequence and properties of experimentally observed peptides, as well as graphical displays of where these peptides align to the full-length protein. CGD thanks Concha Gil and Vital Vialas for contacting us with this suggestion. (Posted December 4, 2013)
---
Sequence trace files available
We have added archival Candida sequence data from the NCBI TraceDB site, and these data are now available from our download site. (Posted November 12, 2013)
---
ASM Candida Conference: abstract submission deadline approaching (25 November 2013)
You are cordially invited to the 12th ASM Conference on Candida and candidiasis, which will be held at the Hyatt Regency New Orleans, Louisiana, USA, on March 26-30, 2014. This promises to be an exciting meeting in a great location! Most talks at the conference will be selected from the submitted abstracts. The organizers invite abstracts on all aspects of Candida pathobiology genomics, molecular and cell biology, including host-fungus interactions, infection and antifungal therapy. We also encourage medical mycologists to submit abstracts on Candida Case Reports for a new session on this specific topic. The abstract submission deadline is 25 November.

ASM Candida12 website: http://conferences.asm.org/index .php/upcoming-conferences/12th-asm-conference-on-candida-and-candidiasis (Posted November 1, 2013)
---
Aspergillus nidulans and Neurospora crassa Orthologs
CGD Locus Summary pages now feature links to Aspergillus nidulans and Neurospora crassa orthologs alongside the links to Schizosaccharomyces pombe and Saccharomyces cerevisiae orthologs in the "Ortholog(s) in non-CGD species" section of the page (see example a>). The new A. nidulans links lead to the ortholog's Locus Summary page at the Aspergillus Genome Database and the N. crassa links lead to the gene pages at the Broad Institute. In addition, these new ortholog mappings are used for Gene Ontology annotation prediction in CGD. (Posted August 13, 2013)
---
Public Distribution of the Merck Candida albicans Double Barcoded (DBC) strain library
The National Reserarch Council of Canada has been mandated by Merck Sharp & Dohme Corp. for the distribution of its library of double barcoded Candida albicans mutants carrying heterozygous deletions. See Candida Community News for details. (Posted July 18, 2013)
---
Archived News
Click here to view archived news items.
CGD Copyright © 2004-2013 The Board of Trustees, Leland Stanford Junior University.
Permission to use the information contained in this database was given by the researchers/institutes who contributed or published the information. Users of the database are solely responsible for compliance with any copyright restrictions, including those applying to the author abstracts. Documents from this server are provided "AS-IS" without any warranty, expressed or implied.
To cite CGD, please use the following
reference
: Inglis DO, Arnaud MB, Binkley J, Shah P, Skrzypek MS, Wymore F, Binkley G, Miyasato SR, Simison M, Sherlock G. (2012). The
Candida
Genome Database incorporates multiple
Candida
species: multispecies search and analysis tools with curated gene and protein information for
Candida albicans
and
Candida glabrata
.
Nucleic Acids Res.
40(Database issue)
:D667-74; see
How to cite CGD.