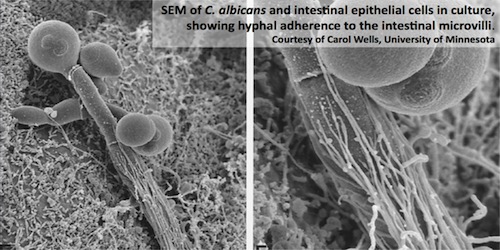 About CGD
This is the home of the Candida Genome Database, a resource for genomic sequence data and gene and protein information for Candida albicans and related species. CGD is based on the Saccharomyces Genome Database and is funded by the National Institute of Dental & Craniofacial Research at the US National Institutes of Health.
Meetings & Courses
Molecular Mycology: Current Approaches to Fungal Pathogenesis
Marine Biological Laboratory, Woods Hole, MA, USA
June 12-28, 2016; Applications are due on Feb 24, 2016


5th CESC (Central European Summer Course) on Mycology and the 2nd Rising Stars in Mycology Workshop
University of Szeged, Szeged Hungary
July 2 – 8, 2016; Applications are due by May 20, 2016


PYFF6 - 6th Conference on Physiology of Yeast and Filamentous Fungi
Lisbon, Portugal
July 11-14, 2016; Deadline for abstract submission, to be considered for oral presentation, and for earlybird registration is March 22, 2016.


New and Noteworthy
---
---
Major update of the C. albicans genome sequence at CGD
We have released a major sequence update for C. albicans SC5314 (Assembly 22, version s06-m01-r01). Based on reanalysis by CGD of all available sequence data, the update affects more than 300 features, correcting many ORF translation errors and resolving many sequence ambiguities. The specific sequence changes can be viewed on our Chromosome History pages. (Posted February 2, 2016)
---
CGD Curation News
---
Updates to C. glabrata genome annotation
Multiple C. glabrata gene models were updated based on gene expression analysis conducted by Linde et al. (2015). 4,994 features were affected: 107 new features were added, including 49 protein-coding genes and 58 non-coding RNAs; 4 ORFs were deleted; the sequences for 132 features were extended and 10 shortened; 15 features were split to create 35 new features; 2 features were merged to create 1 new feature; 4,819 5-prime UTRs and 4,828 3-prime UTRs were added; The intron/exon structure was modified for 60 features; splice variants were identified for 16 features. For a list of updates, see Supplementary Table. (Posted April 15, 2015)
---
Assembly 22 of the C. albicans genome sequence
We are pleased to announce that Assembly 22 of the C. albicans SC5314 genome sequence has now become available at CGD, fully integrated into the CGD environment. Assembly 22 (A22) is described in Muzzey D., et al. (2013) Assembly of a phased, diploid Candida albicans genome facilitates allele-specific measurements and provides a simple model for repeat and indel structure. Genome Biol. 2013 Sep 11;14(9):R97.

Taking advantage of next-generation sequencing and achieving nearly 700-fold coverage, this phased, diploid assembly permits more sensitive, allele-specific analysis of the genome structure and funcion. A22 supersedes the previous Assembly 21 as the default genome sequence for C. albicans SC5314. All the previous assemblies remain available at CGD's download pages. (Posted June 27, 2014)
---
Introducing GeneXplorer for CGD
We have implemented GeneXplorer, a web tool for browsing and analysis of expression datasets and, so far, we have added microarray datasets from over 30 publications already archived at CGD. Each of those publication is linked via an icon to a GeneXplorer-generated web page that shows a colorimetric image of the clustered expression profiles. These images are zoomable and clickable (click on any profile to see the expression patterns of the most similarly or dissimilarly expressed genes). The publications are also linked (via ) to a downloadable data file in the pcl format. We are focusing our efforts on the microarray datasets and more publications are added to GeneXplorer every week. (Posted March 11, 2014)
---
Archived News
Click here to view archived news items.
CGD Copyright © 2004-2013 The Board of Trustees, Leland Stanford Junior University.
Permission to use the information contained in this database was given by the researchers/institutes who contributed or published the information. Users of the database are solely responsible for compliance with any copyright restrictions, including those applying to the author abstracts. Documents from this server are provided "AS-IS" without any warranty, expressed or implied.
To cite CGD, please use the following
reference
: Inglis DO, Arnaud MB, Binkley J, Shah P, Skrzypek MS, Wymore F, Binkley G, Miyasato SR, Simison M, Sherlock G. (2012). The
Candida
Genome Database incorporates multiple
Candida
species: multispecies search and analysis tools with curated gene and protein information for
Candida albicans
and
Candida glabrata
.
Nucleic Acids Res.
40(Database issue)
:D667-74; see
How to cite CGD.